Description
Well known in the industry of online gambling, Microgaming has existed since 1994, making it one of the oldest players in the market still active today. It also distinguishes itself as one of the most significant gambling software developer with Playtech.
Microgaming provides software to at least 120 online casinos, 40 virtual poker rooms and 10 bingoes on the Internet. Some well known gambling sites in the world trust it such as Spin Palace, Golden Riviera or Roxy Palace.
Based in Durban, South Africa, the Microgaming group belongs to a single family. Unlike Playtech or Netent and many other developers, it is not on the stock exchange. This originality was useful in 2006, when the law entitled Unlawful Internet Gambling Enforcement Act (UIGEA for short), prohibiting online gambling in the United States, was passed by the Bush administration. Indeed, it has stayed longer on the market than most of its competitors. Moreover, when I wrote this article, May 26, 2010, some Microgaming sites were still accessible in some U.S. states.
Through its business strategy, the developer proposes smaller bonuses than its rival Playtech. However, for a long time, they were not overly stringent. Unfortunately, times change and Microgaming is also starting to develop promotions that are promising but in the end they are rather disappointing. Thus, it is better now to read the terms and conditions of its bonus.
Since Microgaming has existed for many years, its software platform contains a record number of games. In all, it has more than 450 titles including a few live games with a live dealer. Every month, the developer adds an average of not less than 4 new products in its catalogue.
Microgaming focuses rather on downloadable versions of its titles. However, it has a very wide range of flash games which you can find a comprehensive list here. Usually, a new game takes almost a year to be adapted in this format but for big releases it may take 2 or 3 months just as we have seen with Scrooge.
Some slot machines from Microgaming have become hits like the splendid Isis or the great Thunderstruck. The developer has also signed some adaptations of big licenses. It all started with the signing of a contract with video game publisher Eidos Interactive in 2006 which enabled it to create Tomb Raider then Hitman and finally Tomb Raider 2: Secret of the Sword.
Microgaming has also designed a video slot adapted from reality TV show The Osbournes and another, Hellboy, based on the eponymous comic book by Mike Mignola. Recently, the developer has also signed a major agreement with Warner Bros Digital Distribution allowing it to create a slot that looks great as it is based on the Lord of the Rings.
On Microgaming online casinos, there is also a rare type of game on the Internet. These are UK Pub Slots inspired by so-called type 2 that are found in pubs in England and bars in Spain. These games have only three reels and one payline, but still offer an excellent bonus game and some fun features. Similarly, the combinations are not obtained by chance but they follow a predetermined scenario. This is known as fixed odds games whose principle is somewhat reminiscent of the scratch cards or raffle tickets. In this category are more than thirty titles and some are to be tried immediately just as Cops and Robbers, Lady Luxor, Treasure Ireland and Bill and Ted, an adaptation of a little known comedy starring Keanu Reeves in France.
In terms of progressive jackpots, Microgaming and Playtech are the most generous developers. Since these jackpots are placed in on a network of different slot machines available at all online casinos using the Microgaming platform, it is not uncommon to exceed the threshold of two million Euros. In addition, with this developer, you can be sure of being paid on time and without any nasty surprises. They have a slight difference with Playtech, for the payment of the jackpot where the rule is that your money is paid in full for a period of several years or in part only if you want immediate payment. To give you an example, in WagerWorks a progressive jackpot of 2 million Euros is to be paid in 20 years or right now but you only receive 40% of your money, i.e. around 800,000 €.
Thus, Microgaming is a safe bet in casino software. Not only its platform offers a record number of games, but also the good titles are particularly numerous. Finally, if you enjoy progressive jackpots, you will not find better on the market than Microgaming together with Playtech are the king of beautiful jackpots paid without fuss.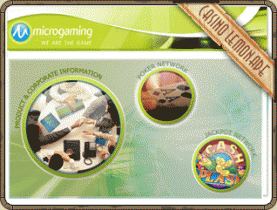 This software is available on the following casinos: :
Recommended casinos