CAI Games
Casino review
After William Hill and Victor Chandler, here is another major company of real-life gambling which goes online. The gambling website CAI Games belongs to the Casinos Austria International (CAI) group, which holds a monopoly on gambling establishments in Austria.
With its partners, this company manages no less than 39 meatspace casinos in 16 different countries around the world, and over 10 casino boats. It also manages a line of lottery products in Argentina.
Founded in 1977, this group is rich of a durable experience of the gambling industry and CAI games is managed by a professional and solid company.
This online casino is mainly aimed at a British customer-base as it only accepts payments in sterling at the moment. On its Chatwell platform, CAI Games offers about sixty flash games, directly accessible from your internet browser. Some of its slot machines turn out to be particularly fun to play, such as Viva Venezia and its detailed graphics, Kat Lee Bounty Hunter and its cartoonish style or Fortune Teller and Surf Up.
As for special offers, you can expect a 100% welcoming bonus up to £333 when you sign up. Later on, you can get a 50% bonus up to £100 on the first deposit of each month. In this way, you can win up to £1,200 in a year.
As I've already said, CAI Games belongs to a group which manages brick-and-mortar establishments, which allows this website to offer quite original special deals, such as a chance to win a holiday in one of their casino.
All in all, CAI Games is an excellent choice. Not only does it use quite a rare piece of software which is only used on one other major website (Betfair) ; but, on top of this, it offers you the safety which only a solid and experienced group can provide.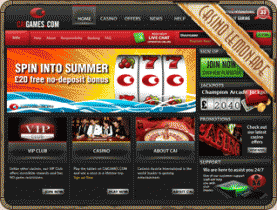 This online casino, managed by a group which specialises in real-life gambling offers you a bonus of up to £1.200 a year




Bonus information
Welcome
This online casino, managed by a group which specialises in real-life gambling offers you a bonus of up to £1.200 a year
This online casino, managed by a group which specialises in real-life gambling offers you a bonus of up to £1.200 a year
Visit CAI Games

This online casino, managed by a group which specialises in real-life gambling offers you a bonus of up to £1.200 a year
Visit CAI Games

Payment information
Withdrawal
Bank transfert :

-

Credit/Debit cards :

-

E-Wallet :

-

Payment information :

-
Deposit
Bank transfert :

-

Credit/Debit cards :

-

E-Wallet :

instant
Currency :

GBP

,

Euro

,

SEK

,

NOK