The 10 most popular applications on Facebook
09/14/12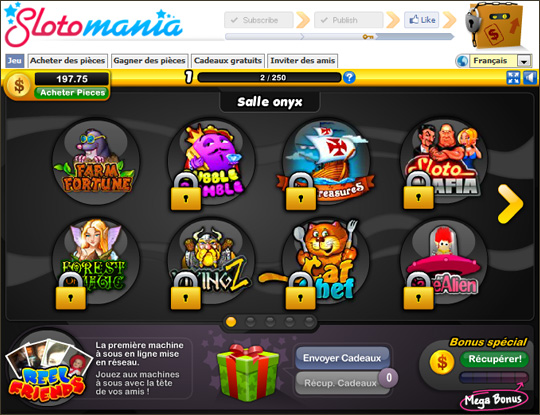 Gambling applications are currently achieving a great success on Facebook.
For this reason, we have reviewed them regularly, for example here.
In this article, we have also compiled a list of the 18 best gambling applications.
Today, once more we would like to tell you about the best casino apps on Facebook, but we will just focus on the 10 most popular apps of the last three months.
While DoubleDown has maintained the top position as the most widely used online casino in the world for a long time, it has now been taken over by Slotomania.
Currently, Slotomania has around 2 milllion active users per day and 6.5 million a month, compared to 1.4 and 5.2 million users for DoubleDown.
In third position, we can find Games by GSN (1.3 million daily users and 4.6 million monthly), which offers casino games such as slot machines and video poker, but also action and strategy games.
After these, our top ten features bingo applications in the fourth, fifth, seventh, eighth and tenth position; Bingo Bash (570 thousand and 2.4 million users), Bingo Blitz (670 thousand and 2.3 million), Bingo Island (100 thousand and 650 thousand), Bingo by Ryzing (60 thousand and 330 thousand) and BINGO! (50 thousand and 230 thousand).
Finally, the sixth and ninth position are held by Best Casino (330 thousand and 1.8 million users) and Slots Wheel Deal (50 thousand and 280 thousand).
No comment »
Posted by : Casino lemonade
Do you like this story? Recommend it!