Taxis turned into roulettes
07/04/12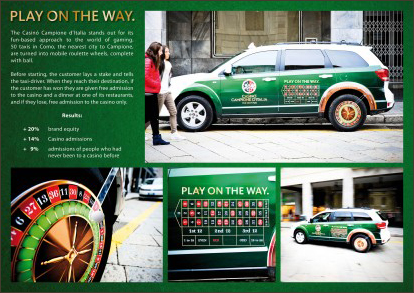 Similarly to the difficulties experienced by the casinos of Atlantic City, many land-based gaming establishments around the world are currently suffering the consequences of the global economic crisis.
In order to attract new players, some casinos are organising special events, whereas others are introducing extraordinary jackpots.
There are also institutions that are focusing their efforts on innovative promotional campaigns.
In particular, this is the case for the casino of Campione, in Italy, which has transformed the city's taxis in real mobile roulettes.
Before getting into a car, customers are invited to bet on a number of their choice.
At the end of the race, the driver checks the box of the wheel turned into a roulette on which the ball has stopped.
While winners leave with a meal for two people as a gift, losers can still enjoy a free admission.
This marketing strategy seems to be successful, considering that, since its launch, the number of people visiting the casino has grown by 14%.
In addition, 9% of new customers had never been to a casino before.
If you have a look at the video below, you will find out how this original advertising campaign works.
No comment »
Posted by : Casino lemonade
Do you like this story? Recommend it!