Casino Riva
Casino review
Casino Riva could be seen as Casino 770 's little brother, as they both share the same software and are the only ones to use these games on which they have some sort of right of exclusivity. That is not entirely true, still, since a couple of years back Casino Partouche were also offering these same games. French courts did not appreciate much the existence of such a web site which blatantly targeted French patrons despite their ban on online gambling. It has held it accountable, despite its defense according to which the Partouche group were only lending its name to a foreign society. The Casino Partouche website has nevertheless had to cease all activity. Most of its members then seeked asylum on Casino 770 which had just opened. To tell the truth, no-one really knows whether or not the Partouche group are behind these web sites or not. We shall pass on these consideration which present in the end little importance to us.
The main thing to say is that a couple of years later, Casino Riva has come to light. It is managed by the same team as Casino 770 and also uses the platform edited by Fast CPU.
It must be said, that, at first, the games released by this developer did not have anything to move the hearts of even the newest of players. Fast CPU even quite often copied pre-existing games, adding quite boring and botched up graphics. A master in plagiarism, this developer is also an expert in using a license without paying the royalties on it. We can remember the slot machines entitled Who wants to be a billionaire? or iBot which were exploiting the success of the TV game and the movie starring Will Smith.
Then, some day, Fast CPU suddenly started to develop interesting and innovative games. Therefore, on Casino Riva, you will find a number of slot machines with 3, 4 or even 5 reels which are truly great to play. They could, of course, be better designed, but they will inspire you a feeling of nostalgia you cannot deny. It reminds the player of Las Vegas in the late 80s and early 90s, which is great. Moreover, these slot machines sometimes offer unheard of or at least extremely rare features like cumulative bonuses. It also offers new and extremely interesting slot machines like Bewitched, The Great Art Robbery or Movie Wood, among others. Some of them even offer a design outside of all that has been done before, like Mistery Manor, which even distillates a cetain poetry reminiscent of the works of the artist Alfons Mucha.
We are not going to lie to you, you will also find very average creations on Casino Riva, but some games are really worth playing. It would even be a shame to miss out on them, especially if you are an experienced players who is getting bored by the lack of original releases on the market of on-line gambling games.
As far as they are concerned, small players or newcomers have, on the other hand, another good reason to get an account on Casino Riva, as it offers very interesting bonuses designed for them. It offers, for example, a discovery offer without deposit of 20 €/$/£, which is becoming rarer and rarer these days, and a welcome bonus of 100% up to 200 €/$/£. This on-line casino has also put in place a special offer which allows you to play with 300 €/$/£ when you deposit only 30. You can therefore have the first deposit on your player's account multiplied by a factor of ten.
For all these reasons, I recommend you to subscribe to Casino Riva. Especially since, if you allow me to be a bit nationalistic, it is one of the rare gambling web sites managed by French people.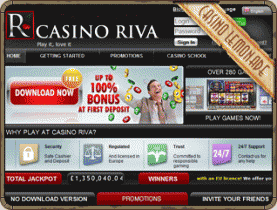 It reminds the player of Las Vegas in the late 80s and early 90s, which is great
5-reel mechanical slots
Interesting bonuses for small-time players
Some old games are slightly disappointing

Bonus information
Welcome
It reminds the player of Las Vegas in the late 80s and early 90s, which is great
Payment information
Withdrawal
Bank transfert :

-

Credit/Debit cards :

-

E-Wallet :

-

Payment information :

-
Deposit
Bank transfert :

-

Credit/Debit cards :

-

E-Wallet :

instant
Currency :

GBP

,

Euro

,

SEK

,

NOK