Win 480.000 coins with the help of BetSoft
08/21/14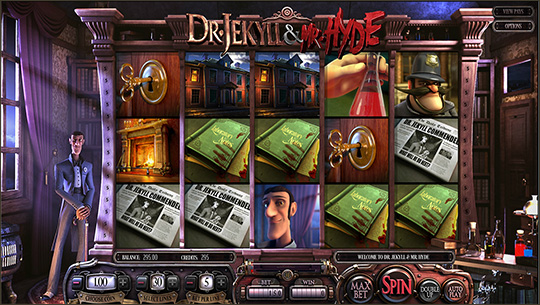 You are probably just as frustrated as everyone else by the generally poor summer weather.
Fortunately, I can suggest a game that could save your summer!
The latest hit created by the developer Betsoft could help you win some big cash!
If you want to learn more about the game and how to make a fortune at the casino with this game, I invite you to read more of this article.
A fantastic atmosphere
We recently added a new game to our site.
The slot machine with the name Dr. Jekyll & Mr. Hyde has 5 reels and 30 paylines.
It is an adaptation of the famous cult novel, and offers a fantastic atmosphere and thrilling game content.
You can find carefully designed 3D graphics, catchy music and immersive sound effects.
In short, everything was done to recreate the murky and mysterious atmosphere that was found in Victorian London as described by Scottish writer Robert Louis Stevenson.

A nice selection of special features
In addition to the care given to the atmosphere of the slot, it is also important to say that the game content is also very interesting and entertaining.
In fact, the game has a very original wild symbol.
You can also win innovative free spins, and launch two different bonus games, and special features that can multiply your wager with 30 or up to 120 times respectively.
As you will see, the chances of winning money at the game are very diverse, and the slot game Dr. Jekyll & Mr. Hyde offers plenty.
You should also know that you can win up to 480,000 coins in just one spin.
For free on our website or for real money at Tropezia Palace
I think I can safely say that this little presentation of the game has probably gotten your attention. In fact, the game sounds incredibly nice on paper.
I suggest that you make your own opinion about the game, and try it in demo mode on our website. You can play Dr. Jekyll & Mr. Hyde for free here.
If you prefer not to wait for someone else to snatch the great jackpot of 480,000 coins, you can visit the website of our partner Tropezia Palace and try this new slot machine of the developer Betsoft for real money.
No comment »
Posted by : Casino lemonade
Do you like this story? Recommend it!