Psycho – A slot tribute to the masterpiece of Hitchcock
06/02/15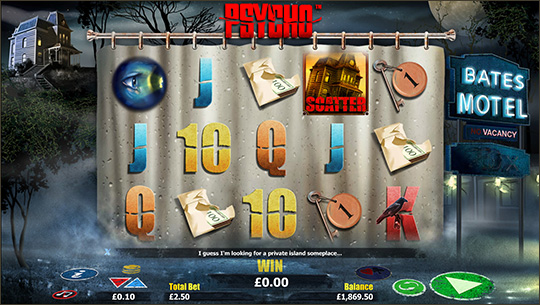 When speaking of cult films it is often sufficient just to mention some small specific details in order to identify the movie to which they relate.
If we speak of an isolated motel near a manor house, a shower curtain, a hand with a knife and stuffed birds for example, I am sure most of you film buffs will immediately recognise the Alfred Hitchcock masterpiece Psycho.
You will probably agree that it has a special place in the hall of the most famous feature films of all time when it comes to legendary films of the history of cinema.
So, when a developer of online casino games finally adapts this into a slot machine you will probably agree that the expectations are going to be very high.
As the game has been finally released, we could test it to check it and write our review.
In fact, the developer NextGen Gaming has created a very good adaptation of the eponymous cult movie Psycho and it is an excellent video slot.
I invite you to read this article and find out a few more details about the game.
Enter the mythical Bates Motel
You will only have to start the slot machine Psycho from NextGen Gaming to be immersed in the macabre atmosphere of the eponymous masterpiece of Alfred Hitchcock.
In fact, you will be greeted by an excellent introduction scene in black and white that shows the famous mansion in a stormy night.
Then, you will find excerpts from the feature film before entering the legendary Bates motel.
At this point, you will finally have access the video slot itself.
The game has a background of the parking lot of the property, complete with its neon sign on the right and the mansion on the left.
The reels are set in front of the shower curtain and the symbols are key elements of the story, such as bank notes stolen by Marion Crane (played by Janet Leigh) or the key to room number 1 where she is going to be murdered.
In short, fans of the feature film will appreciate the fidelity with which the developer NextGen Gaming has created this slot game.
Others players should be happy with the game features.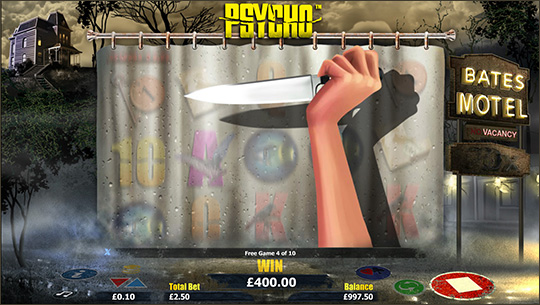 Enjoy a wild multiplier of up to 40x
The video Psycho does not only have a very nice design, it also offers interesting game features.
The game has 5 reels and 25 paylines, and players can benefit from two special symbols: a scatter and a wild symbol which can multiply your winnings up to 40 times!
You should also know that you can win free spins and risk your winnings in a Gamble feature that can allow you to double or quadruple the amount up to 5 times. This means that there are many opportunities to win a lot of money, especially since the slot machine has a high payout rate of 95.568%.
Play for free on our website or for real money at our partner Slots Million
If you want to enjoy a nice slot game that offers a unique atmosphere inspired by one of the most legendary movies in the history of cinema, and game features that are profitable and exciting, I suggest you discover the video slot Psycho developed by the NextGen Gaming as soon as possible.
With its high payout rate and wild multipliers of up to x40 it could let you win lots of money.
To test the game for free you can try the demo version on our website.
If you prefer to play the game directly for real money you can find it at our partner Slots Million.
No comment »
Posted by : Casino lemonade
Do you like this story? Recommend it!