Nun steals a million dollars to play slots
11/30/11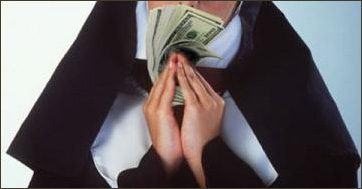 Fore more than 10 years, Sister Marie Thornton worked in the financial department of Iona College in New Rochelle (New York).
Her job allowed her to divert more than a million dollars to play slots in Atlantic City's casinos.
Compulsive gambler, the nun lost around $10,000 in a single day at her favourite casino.
To fund her addiction, she could steal up to $5,000 per day.
After the robbery was discovered on the college's bank accounts, a federal investigation has been opened and finally Sister Thornton confessed all her crimes.
During her trial, she faced a sentence of 3 years in prison.
The prosecutor in charge of the case has preferred to place her into a special facility to treat the nun's addiction.
Healed, she now lives in a convent in Philadelphia.
This sad story reminds us (so is that one here and there) that before being member of the Church, one is a human being, with all its weaknesses attached.
No comment »
Posted by : Casino lemonade
Do you like this story? Recommend it!