Gladiator, the slot by Ridley Scott
04/26/10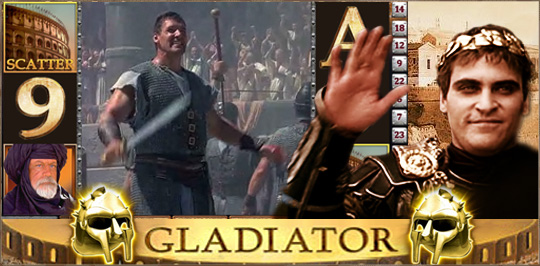 In the light of our last two articles on this blog among other things, you might have noticed that something is clearly happening these days in the world of on-line casinos.
Why is that?
To be honest, I have little idea, but we cannot deny we are witnessing increased spending, which result in turn in a phenomenal increase in the quality of the new games released recently.
In this context, Playtech releases at last a slot machine which has nothing to envy to those we can find in real-life casinos.
The clash between the licensing from the 5-award motion picture Gladiator and the latest generation of game engines results in an almost-perfect slot machine.
It features all the main characters from the movie, except for the role played by Russell Crowe who unfortunately was not covered by the agreement signed by Playtech and Universal Pictures.
A slot machine with 5 reels and 25 payment lines, Gladiator offers a rich gaming content with 2 special symbols (a Wild and a Scatter), a double or quits feature and no less than two bonus games.
Even though one of them is nothing brilliant, since it offers absolutely no interactivity, the other one is still unarguably great.
It allows you to win between 7 and 14 free spins, during which a multiplier of x2 to x3 applies.
On top of that, during these free spins, some symbols can also be used as Wilds or Scatters.
Even if the soundtrack and graphics, scattered with clips from the motion picture are impressive, the key element in the success of the Gladiator slot machine is really to be found in this feature which makes all the difference.
In spite of its low/average variance, this feature can on top of everything else offer you a few extremely lucrative spins.
No comment »
Posted by : Casino lemonade
Do you like this story? Recommend it!