CAI Games welcomes games from NextGen Gaming
08/10/10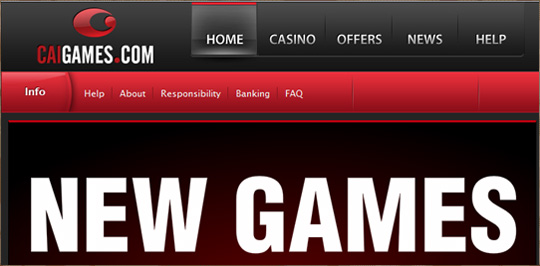 There is an online casino run by the group that holds a monopoly on gambling establishments in Austria.
Called CAI Games,  this site is once again being talked about.
Already in early June, it had the honor of a review on our blog.
In fact, an agreement signed with this online casino has allowed games by Chartwell to be again available on Casino Lemonade.
Today, following the launch of 12 new games to its lobby, I want to talk to you again about CAI Games, though not yet translated into French and it  does not accept the Euros for now.
Based on Party Casino, Roulette69 or also Casino Room the site began to host games designed by different developers.
Thus, in addition to titles from Chartwell, you now have  on  CAI Games games by NextGen Gaming.
Know that this trend, very current on the UK market, should  significantly improve  in coming years.
Among the new games  posted on CAI Games, I want to focus on three video slots in particular.
The first is called Arthur's Quest 2, which is obviously the sequel to Arthur's Quest.
The other two are called Sleepy Hollow and The Italian Job.
These slot machines   are inspired by classic films.
Sleepy Hollow is taken from the eponymous film by Tim Burton with Johnny Depp  adapted from a story by Washington Irving
As for The Italian Job  is based on Gold Bar  a British film of 1969 by Peter Collinson with the superb Michael Caine and his remake of 2003 entitled "The Italian Job in which we find a line up of stars: Mark Wahlberg, Charlize Theron, Donald Sutherland, Jason Statham and Edward Norton in the leading role.
I'll let you discover now the full list of new games from CAI Games which contains both slot machines but also games.
In fact, take advantage of this article to find out   about the most reliable and professional online casino by Clicking this link.
No comment »
Posted by : Casino lemonade
Do you like this story? Recommend it!