Belgium cracks down on unlicensed gaming websites
07/19/12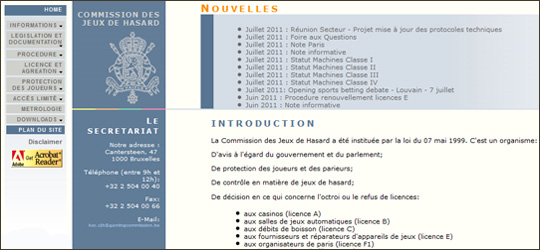 In 2010, Belgium started working on a bill that would liberalise its online gambling market and that should have come into force the following year.
Even though the liberalisation has been slightly delayed, the first licences were issued in September 2011.
The Belgian law is quite peculiar, as it allows only operators of land-based casinos in the country to obtain a license.
By signing partnerships with casino owners, some of the leaders in the online gambling industry have still been able to enter the Belgian market.
On the contrary, others have been forced to continue offering their services without a licence.
In order to crack down on the illegal market, the Gambling Commission signed a memorandum in October 2011, together with the Belgian Financial Sector Federation (Febelfin) and Internet Service Providers Association of Belgium (ISPA).
Recently, the Belgian regulatory authority has also published a blacklist of online gambling sites, whose access and transactions must be blocked respectively by those Internet service providers and financial institutions that signed the famous protocol.
Moreover, the government has decided to impose a fine of up to 25,000 euros on those Belgian players who continue to access the websites on the blacklist.
No comment »
Posted by : Casino lemonade
Do you like this story? Recommend it!