Win 80.000 euros with the Stickers slot from Netent
06/04/15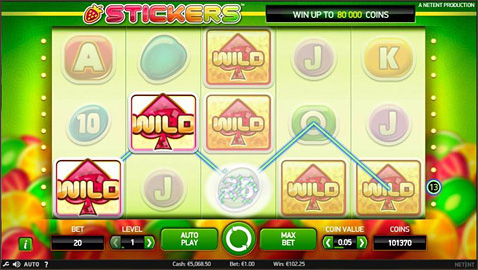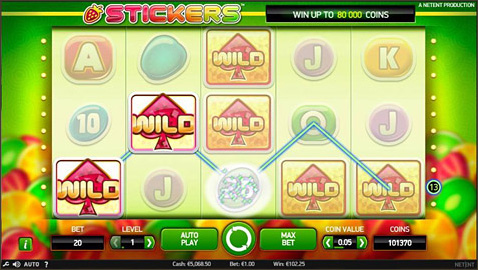 It happens occasionally that slot machines conceal from the outside what the game is really like on the inside.
This is particularly true for the latest slot from the Swedish developer Netent that has the name Stickers.
Admittedly, the game does not use flashy graphics, instead they are rather innocent.
The game uses classic fruit symbols and the game features are somewhat austere.
Yet the slot has huge potential for fun and you can win a lot of money, as we will show in this article about the game below.
Misleading graphics
With its flashy colours and the fruit and playing card symbols, the graphics of the Stickers slot machine from the developer Netent might want us to believe that the game is intended primarily for beginners.
However, looking at the payout table shows that the absence of free spins and bonus games could very well discourage them from playing.
They would miss out on an excellent game that will probably be most appreciated by game connoisseurs.
In fact, the game sessions are filled with thrills and fun, and those are the keywords that relate to a masterpiece of slots.
The video slot Stickers has many layers and its innocent design is hiding the great game content from the face of the world.
Be warned!
A wild symbol that awards a free re-spin
With 5 reels and 20 pay-lines, the latest slot machine Stickers from Netent has a wild as a special symbol.
As soon as you get this symbol on a reel you will win a free re-spin in which it remains its position on the screen. If you then get an additional wild, you get yet another re-spin during which all your wild symbols will remain fixed on their position, and so on.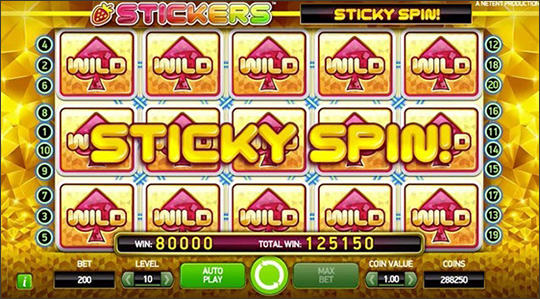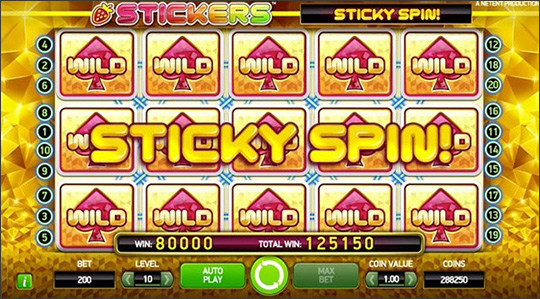 A game that constantly plays yoyo with your emotions
'Is that all?' might say some players. Yes, it is, but it is grand!
In fact, the game-play is simple, but very captivating.
You should know that the wild symbols do not frequently appear on the reels either.
However, once you get one, it is far more important to see if you get another on in the free re-spin.
It is not uncommon to get several in a row and they are chained together with additional free spins with winnings that in the end can amount to a big, mega or even a super mega win!
Remember, that it is also possible to win up to €80,000 during a single spin.
In short, you can expect to experience an emotional yoyo with phases where you have small losses and others where you will win huge amounts.
This is a unique gaming experience and a guaranteed exciting pleasure.
Additionally, the game has a very high payout rate of 96.69%, which means you can expect good returns.
Free on our website or directly for real money at Slots Million
I guess everyone will understand now, why the latest video slot from Netent has managed to keep the attention of our team.
This is the reason why we decided to present you the game Stickers, and we suggest you discover the game for yourself.
You can test the demo version for free on our website.
If you prefer to play the slot directly for real money and experience the maximum thrill you can visit our partner Slots Million.
No comment »
Posted by : Casino lemonade
Do you like this story? Recommend it!