Description
If you have never heard the name of Betsoft, don't worry. It is still quite obscure. However, it is not a new developer only recently appeared on the market. It has already existed for over a decade. And it has proved to be particularly talented. It can even be said that its software is among the best there are, if not the best of all the industry.
How come players have ignored this precious gem for so long? It is quite simple. Betsoft was only providing the platform for a single online casino, up until very recently. Their software was used nowhere else. That is why its work was so discreet up until now.
Fortunately, all this should quickly change since other online casinos are starting to use the Betsoft software. The world should soon be discovering its numerous advantages. The major two advantages it presents are, on the one hand, breath-taking slot machines and , on the other, a compression algorithm which makes all the difference.
The most impressive games developed by Betsoft are slots. They boast a totally amazing graphic design and a rich atmosphere. They also offer a lot of 3D elements and breath-taking features. My all-time favourites are Barbary Coast which is however a favourite of all other members of the Casino Lemonade team.
The greatest thing is that these impressive games download really quickly. The less impressive MicroGaming slot, for example, takes longer to load than the heaviest slot machine designed by Betsoft.
So don't hesitate and discover this new actor which should soon become major thanks to the quality of its creations.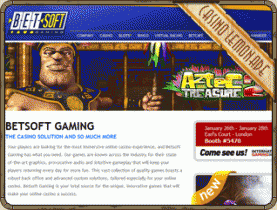 This software is available on the following casinos: :

Recommended casinos
Other casinos