Gorilla Go Wild places NextGen Gaming among the greatest
06/16/15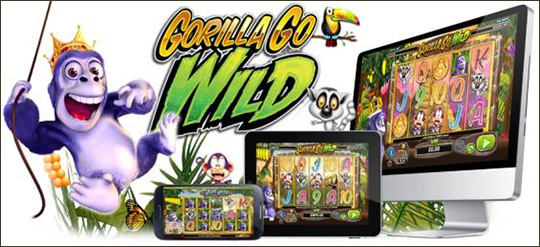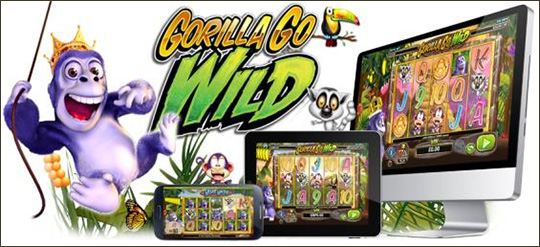 The casino game developer NextGen Gaming has been creating games since 1999, and they have stayed quiet for many years.
Nevertheless, they seem to be determined to do something about it.
For example, they have signed several licensing agreements, including one with a former Playmate, and a comic editor, and they then released the games An Evening with Holly Madison and Judge Dredd.
They have also been releasing one good game after the other lately.
There was the recent release of the Psycho slot, a game that was inspired by the masterpiece of Alfred Hitchcock – and we told you about how great it is in our recent review.
Today, we would like to present to you the slot Gorilla Go Wild, and behind the classic animal theme lie fun features and treasures.
This is simply one of the best games from NextGen Gaming and it could mean for them that they end up becoming a heavyweight in the market, if they continue with this strong momentum.
A perfect cartoon jungle
When you start a game session at the video slot Gorilla Go Wild you will be thrown right into the heart of a totally wacky jungle that is populated by various animals, including a blue gorilla who accompanies you throughout the game.
You will be able to enjoy pleasant music with lots of percussion that is perfectly in tune with the theme.
This slot game also has beautiful 3D graphics, even if they fail to equal those of Betsoft Gaming, who is a specialist in the field.
Even though the atmosphere of the slot is very nice, it is not the theme that will hold your attention, but the game features, as they are innovative and generous.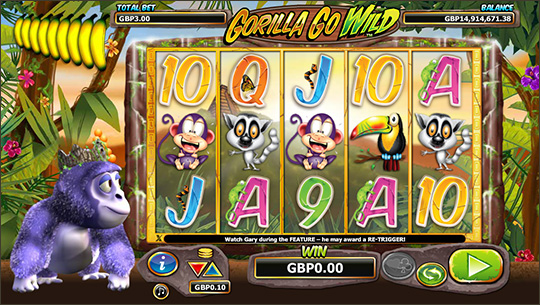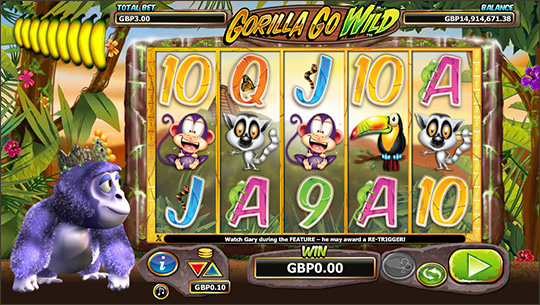 A random feature that can award you up to 100,000 €
The slot machine Gorilla Go Wild has 5 reels and 25 paylines, as well as two special symbols: a wild and a scatter.
Additionally, it offers the option to risk your winnings in a gamble feature that can double or quadruple the amount up to 5 times.
The game also has 3 original and profitable features.
Gary's Bonus Time can award you a random win of up to € 100,000.
Gary Goes Bananas gradually increases your chances of triggering the previous feature.
Gary the Gorilla's Feature Kingdom awards you 10 free spins of the type of your choice.
You can decide between free spins features that double your winnings, multiply them from x1 to x10, fix every wild symbol that appears in its place until the free spins end, or free games where all occurrences up to three randomly selected symbols are being turned into wild symbols.
Guaranteed fun and thrills
Now let me catch my breath after explaining all the different features of the slot Gorilla Go Wild.
The slot game is also very interesting and thrilling because of the game-play settings.
The Gary Goes Bananas Feature will trigger more often if you play more, which means you will win more as well.
The return to player payout rate starts at 92.060% and goes up to 96.512% as you play, which means that you will win more money.
Also note that the game has a medium to high variance that allows you to win much larger amounts.
In short, with Gorilla Go Wild, the developer NextGen Gaming has created an excellent slot that does not leave anything to be desired.
For free on our website or for real money at Slots Million
So, if you are looking for new and exciting slot games, we strongly suggest you discover the slot Gorilla Go Wild.
You can test the demo version for free on our website.
If you prefer to play this 3D video slot directly for real money you can find it at our partner Slots Million.
No comment »
Posted by : Casino lemonade
Do you like this story? Recommend it!